"The technique is simple but the work is powerful. I have learned to take it easy and enjoy the journey.
We learn through stories of how individuals apply the technique so that we can understand how it can benefit us, both personally and professionally.
To date, much of the work has been developed in the area of counselor-client or therapist-patient relationship around trauma and anxiety.
Self-Coaching with Logosynthesis: How the Power of Words can Change Your Life (Lammers, 2015) and Letting It Go. Relieve Anxiety and Toxic Stress in Just a Few Minutes Using Only Words (Weiss, 2016) provides great instruction to applying the technique.
As we continue to strive to better cope with our challenges and to maximize our opportunities, we can discover further application to help live our lives more fully.
Sharing through articles and videos is an important part of this learning.
RECENT ARTICLES

FOR A COMPREHENSIVE OVERVIEW OF LOGOSYNTHESIS, READ MY BOOK LOGOSYNTHESIS: ENJOYING LIFE MORE FULLY. THE FOLLOWING ARTICLES WILL HELP EXPAND UNDERSTANDING.
We pay a price for our reactions. In everyday life, we pay a price for our reactions, often without recognizing what happened. The price can include: missed opportunities damaged relationships physical and mental health issues [...]
I love the feeling of extraordinary living! I love to share how you can experience the flow of extraordinary living using a simple and powerful model. Five years ago, I was experiencing a really busy [...]
At times I get stuck ... like a broken record. It is easy to get caught up in the repetitive, energized conversations about who did something wrong or who simply didn't do things the way [...]
Article Archive
MY ARTICLES WILL GIVE PERSPECTIVE ON THE SCOPE OF APPLICATION FOR LOGOSYNTHESIS.

Cathy Caswell
Engaging in conversations for health. I am thankful for living in a country where I have a voice with my elected representative. We move forward together when we listen to learn and openly discuss innovative approaches. As [...]
Cathy Caswell
My life is the same. My reactions are not. The Healthy Living Plan Inc.   •   July 15, 2018 Do my reactions derail situations? Do I think that my life [...]
Cathy Caswell
How a new approach to leading change transformed me. The Healthy Living Plan Inc.   •   April 18, 2018 Yesterday I came across a DiSC® Assessment from 2009 and I [...]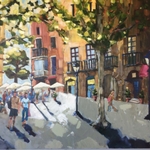 DO YOU HAVE CHALLENGE I CAN HELP WITH?