"The technique is simple but the work is powerful. I have learned to take it easy and enjoy the journey.
We learn through stories of how individuals apply the technique so that we can understand how it can benefit us, both personally and professionally.
To date, much of the work has been developed in the area of counselor-client or therapist-patient relationship around trauma and anxiety.
Self-Coaching with Logosynthesis: How the Power of Words can Change Your Life (Lammers, 2015) and Letting It Go. Relieve Anxiety and Toxic Stress in Just a Few Minutes Using Only Words (Weiss, 2016) provides great instruction to applying the technique.
As we continue to strive to better cope with our challenges and to maximize our opportunities, we can discover further application to help live our lives more fully.
Sharing through articles and videos is an important part of this learning.
RECENT ARTICLES

FOR A COMPREHENSIVE OVERVIEW OF LOGOSYNTHESIS, READ MY BOOK LOGOSYNTHESIS: ENJOYING LIFE MORE FULLY. THE FOLLOWING ARTICLES WILL HELP EXPAND UNDERSTANDING.
Expand perspectives with this guided change method. The Healthy Living Plan Inc.   •   March 8, 2018 We can easily recognize that if we expand perspectives, we enhance results. Our [...]
Oprah and Trump: Processing my reactions. The Healthy Living Plan   •   January 14, 2018 This past week, Oprah and Trump have dominated the media for their spoken words, the passion [...]
Listen to feelings and emotions. The Healthy Living Plan Inc.   •   January 2018 What if we view reactions as information? Feelings and emotions are our body's response to life's [...]
Article Archive
MY ARTICLES WILL GIVE PERSPECTIVE ON THE SCOPE OF APPLICATION FOR LOGOSYNTHESIS.

Cathy Caswell
New experiences. Live purpose. Enjoy life. The Healthy Living Plan Inc.   •   December 31, 2017 Our resolutions are an important part of turning the page on the year. We [...]
Cathy Caswell
Alzheimer's Disease: Body, Mind, Spirit. Cathy Caswell  •   November 20, 2017 Alzheimer's Disease involves more than body and mind. Bill Gates' article, Why I'm Digging Deep Into Alzheimer's (13 November [...]
Cathy Caswell
What is structural stigma? Structural stigma is the "societal-level conditions, cultural norms, and institutional practices that constrain the opportunities, resources, and wellbeing for stigmatized populations" (Hatzenbuehler & Link, 2014, p. 2) At the risk of [...]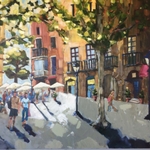 DO YOU HAVE CHALLENGE I CAN HELP WITH?