"The technique is simple but the work is powerful. I have learned to take it easy and enjoy the journey.
We learn through stories of how individuals apply the technique so that we can understand how it can benefit us, both personally and professionally.
I share my personal and professional experiences using Logosynthesis® in everyday situations. This is supported by my  professional training as a Practitioner and Instructor in Logosynthesis® to guide you to start using the method now to help you change your reactions in everyday life to feel calmer so that you can focus on what is important in your life.
You know what is important to you and yet everyday situations can get in the way. I will show you how to begin using Logosynthesis® now to enjoy life more fully and to thrive in our times.
RECENT ARTICLES

LOGOSYNTHESIS®, DEVELOPED BY DR. WILLEM LAMMERS, IS A PREFERRED MODEL USED BY AN INTERNATIONAL GROUP OF COACHES, COUNSELLORS & THERAPISTS.
THE FOLLOWING ARTICLES WILL HELP YOU LEARN HOW IT CAN BENEFIT YOUR EVERYDAY LIVING AT WORK AND AT HOME. YOU CAN SUBSCRIBE TO MY YOUTUBE CHANNEL, READ MY BOOKS AND TAKE ONLINE COURSES TO LEARN MORE. 
How a new approach to leading change transformed me. The Healthy Living Plan Inc.   •   April 18, 2018 Yesterday I came across a DiSC® Assessment from 2009 and I [...]
Expand perspectives with this guided change method. The Healthy Living Plan Inc.   •   March 8, 2018 We can easily recognize that if we expand perspectives, we enhance results. Our [...]
Oprah and Trump: Processing my reactions. The Healthy Living Plan   •   January 14, 2018 This past week, Oprah and Trump have dominated the media for their spoken words, the passion [...]
Article Archive
MY ARTICLES WILL GIVE PERSPECTIVE ON THE SCOPE OF APPLICATION FOR LOGOSYNTHESIS.

Cathy Caswell
Listen to feelings and emotions. The Healthy Living Plan Inc.   •   January 2018 What if we view reactions as information? Feelings and emotions are our body's response to life's [...]
Cathy Caswell
New experiences. Live purpose. Enjoy life. The Healthy Living Plan Inc.   •   December 31, 2017 Our resolutions are an important part of turning the page on the year. We [...]
Cathy Caswell
Alzheimer's Disease: Body, Mind, Spirit. Cathy Caswell  •   November 20, 2017 Alzheimer's Disease involves more than body and mind. Bill Gates' article, Why I'm Digging Deep Into Alzheimer's (13 November [...]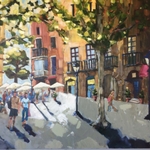 DO YOU HAVE CHALLENGE I CAN HELP WITH?