My Work
I TEACH LOGOSYNTHESIS AS ONE SIMPLE AND POWERFUL MODEL TO RESOLVE WHATEVER BOTHERS YOU.
I FACILITATE INDIVIDUALS AND GROUPS, THROUGH PRESENTATIONS AND EXPERIENTIAL LEARNING, TO IDENTIFY HOW THIS TOOL CAN BE BENEFICIAL TO SUPPORT PERSONAL GROWTH AND LEADERSHIP DEVELOPMENT.
THE METHOD CAN BE USED FOR COACHING, COUNSELLING AND THERAPY, WITH A TRAINED PRACTITIONER, TO RESOLVE ENERGETIC BLOCKS. IT CAN ALSO BE TAUGHT FOR SELF-COACHING AS A PERSONAL DEVELOPMENT TOOL.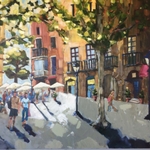 DO YOU HAVE CHALLENGE I CAN HELP WITH?